Thank You!
Thanks for showing you care.
The Lansdowne Children's Centre Foundation would like to thank our many wonderful donors. We sincerely value your support and your commitment to the children and families in our communities. We are grateful to our many donors who give so generously in the hopes of making a difference. Here are some of our many incredible donors who have made a difference in the Lansdowne community.
Mayor Chris Friel (left) presents Executive Director, Rita Marie Hadley (right), a cheque for the proceeds from this year's Mayor's Gala. Lansdowne is very grateful to be named this year's Charity of Choice. Thank you to Mayor Friel, the sponsors, and guests who made this a wonderful evening. Thank you for thinking about our very special children here at Lansdowne.
Abbie Kielbiski (left), a former client of Lansdowne Children's Centre wanted to give back. She partnered with Ken Bartley (middle) of B and B Trade Distribution and they raised $5,940.00 at their Charity Golf Tournament for Lansdowne. Angee Turnbull, Lansdowne Children's Centre Director of Philanthropy (right) accepts the cheque of behalf of our great children here at the Centre. Thanks Abbie and Ken! We really appreciated your support.
The City of Brantford and County of Brant are proud to announce that surplus funds from the 2017 Ontario ParaSport Winter Games will go towards a community legacy project that benefits both communities. The Games Organizing Committee recommended to both Councils that the legacy funds of $5,087 be donated to the Lansdowne Children's Centre Every Kid Counts program. Pictured are Jenny Sawicki, Games Accessibility Co-Chair (left), Rita Marie Hadley, Executive Director of Lansdowne and Sheena Yarek, Games Accessibility Co-Chair (right). We were thrilled to see Jenny back at the Centre. Thank you all for thinking about Lansdowne's Every Kid Counts program.
Our Executive Director Rita Marie Hadley accepts a cheque from Bob Caissie, founder of the Great Northern Ride for $177,500.00. The money was raised from this years Great Northern Ride. The ride supports our unfunded Every Kid Counts program. A sincere thank you to Bob, the sponsors, riders, and volunteers that worked to make this one of the best rides to date. Thank you again Bob to you and your wonderful group of riders who really care about the children at Lansdowne.
A sincere thank you to Michelle Fulson-McDonald (left) and Laurie Miller (right) for donating $1334.00 to the Lansdowne Children's Centre. The funds were raised from their Totally Awesome 80's Dance Party. Michelle and Laurie present Rita Marie Hadley the Executive Director of Lansdowne with a cheque that will support our programs here at Lansdowne. It was a sold out evening, with great costumes, dancing, prizes and a lot of fun. Thank you again, we really appreciated it.
David Neely, Chair of the Lansdowne Children's Centre Foundation (left), and Laura Favacho, Laurier student (middle), graciously accept cheques from the Chair David Bailey, Brantford Community Foundation (right) for a grant and support from the Donald and JoAnne Wilkin Fund, and the Nick and Glayde Rizzo Family Fund. We are always so grateful for the support we receive from our community.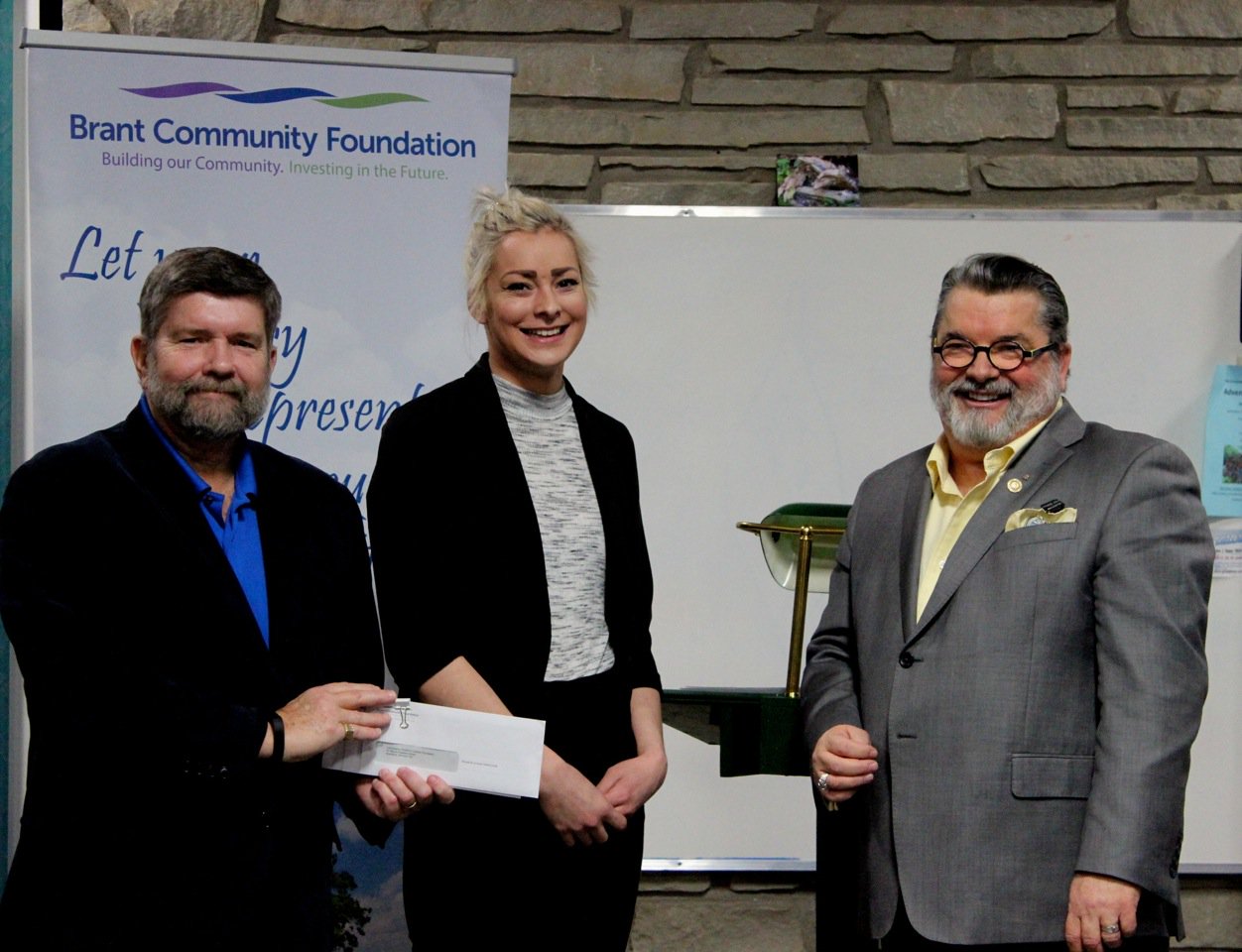 Lansdowne Children's Centre's Executive Director, Rita-Marie Hadley, received a donation from Enterprise Holdings Foundation. The cheque was presented by Rebecca Murray, Management Trainee (right).
A sincere thank you to Copetown Lions who raised $1000.00 in their ham roll fundraiser for Lansdowne's Autism program. We were thrilled to go and speak about autism and makes some new friends with this amazing group. Pictured from left to right are Dave Biehler, Cassandra Cloet, Senior Autism Therapist, Angee Turnbull, Director of Philanthropy, Susan Battin Wright, Senior Autism Therapist and Doreen Wilson.

A huge thank you to Tim Horton's and their Smile Cookie Campaign. Thanks to supporters like you, Tim Horton's was able to raise a total of $80,000, split between Lansdowne Children's Centre and Crossing All Bridges Learning Centre. We'd like to thank everyone who bought a Smile Cookie and supported two local charities, helping children with special needs reach their full potential.